Desperate For Jesus: Overcome The Obstacles To Find True Life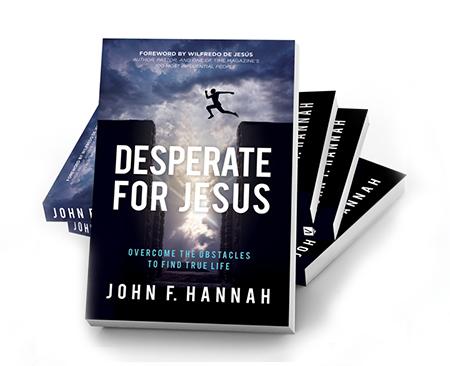 Desperate For Jesus: Overcome The Obstacles To Find True Life
Paperback (Sept. 2015) by John F. Hannah (Author), Wilfredo Choco De Jesus (Foreword).
What does it mean to live desperate for Jesus? That depends on the Jesus you know. Some of us run to Him when things go wrong and move away from Him when life is smooth, but there's a better way to live. John Hannah helps you grow more mature in your relationship with Jesus by revealing his testimony of crying out for, and finding, Jesus. As he pulls you into his own story, Hannah also studies heroes of the Bible: Moses, the blind beggar, the bleeding woman, Mary Magdalene, King David, Peter, and Jairus. Each one pursued Christ. Desperate for Jesus helps believers identify and conquer six obstacles: Difficult seasons in life Anger Family Betrayal Spiritual immaturity The flesh The more we crave Jesus, the more He will transform us and those around us. It's time to live desperate!
Most orders are shipped within 3 business days. All orders are shipped via USPS, FedEx, or UPS. Processing time of your order can vary from 3-14 days depending on product availability, or in some cases up to 4-6 weeks. Orders shipped by ground service average 4-10 business days from date of order to reach its destination. Orders shipped by priority service (Priority Shipping) average 3-7 business days from date of order to reach its destination. Additional charges may apply depending on weight. We will notify you of any additional charges before shipping. When calculating actual ship date, please do not count Saturdays, Sundays or Federal Holidays. Please include a complete street address for all orders. If ordering internationally, any taxes, customs, or related fees will be your responsibility at the time of receipt.